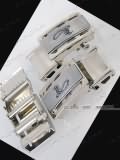 Autofit Belt Buckle (10 pcs) Cobra Snake
→ Stock#: 0459 | Material: | Color:

10 pcs buckles.
Size: 3" x 1.5" (7.5cm x 3.75cm).
Fit up to 1.25" wide belt (32mm).
Removable and Auto Fit.
No holes needed on the belt.
Easy to install.
Belt slides through the buckle and has a clamp down closure.

(As-Is. Non returnable).

Click on picture to view larger.